THE PRINCIPLES OF 3D PRINTING
---
| Fablab UPSaclay | Romain Di Vozzo (Director) |
| --- | --- |
| | |
I am the director/founder of Fablab UPSaclay, and former student of both Pr Bruno Latour (philosopher) and Pr Neil Gershenfeld (fablabs « god-father »). I work on unfolding the fablab concept in its every aspects. My work is at the intersection of political arts, systemic design, publics-empowerment through design and technologies, distributed-education and networks, and innovation (what ever it means). I came to 3D printing 10 years ago when I took Fab Academy - the globally-distributed course on Design and Digital Fabrication. 3D printing is an everyday routine at Fablab UPSaclay. I have machines at home as well so my daughter is a « 3D Printing Native ».
---
About Fablabs
Fablabs :
Fablabs shape a distributed network of 2000+ digital fabrication facilities worldwide
Fabbers mainly agree on the fact that the 3rd digital revolution will be in fabrication
Fablabs offer open-access to design and digital fabrication tools
Technologies for the Empowerment
A fablab's inventory of machines is composed of Additive and of Subtractive Machinery
The global fablab network offers distributed education programs : Fab Academy, Fabricademy…
We say that "fablabs are one market for one person".
---
---
---
Turning Bits into Atoms
From Bits to Atoms
The 3D Printing Processes fit under the hat of Additive-Manufacturing.
Instead of removing materials from a block (of material) like in common Subtractive Manufacturing Processes, 3D Printing adds material. It supposedly produces less wastes by adding the "right" amount of material where it is required, without the need of a pre-existing solid mold.
It also offers more degrees of freedom in terms of conception thanks to overhang management thanks to temporary support structures.
But ALL OF IT is Computer-Aided, Computer-Coded, and Computer-Controlled.
To sum up : 3D Printing turns code into physical things.
---
Important Note 1
EUGLOH : IMPORTANT GENERAL NOTE 1
In France, the HEALTH CARE sector is now responsible for 8% of the global Greenhouse gases emissions of the country.
What if raw materials to fabricate medical objects were available on site together with 3D Printers ?
What about 3D printing meds instead of having them shipped from other countries ?
Meds/Pills transportation reaches 33% of the (8%) Greenhouse Gases Emissions related to health care…
During COVID 19 first lockdown in march 2020, Fablab UPSaclay has been fabricating Protective Equipments for Nurses and Doctors. We were able to 3D-print 2000 parts because we had secured tens of kg of 3D Printing filament and +50sm of PETG sheets right before the industry started to close.
---
Important Note 2
3D PRINTING IN GENERAL
3D Printing, like many new (or so cold "new") technologies has some advocates and lobbyists who's interest is almost exclusively business-oriented.
Techno-evangelism and Marketing put together can make people think that (for example) 3D Printing Organs is already being done whereas it is not the case yet, and it might take a while before a kidney gets replaced by its 3D Printed replica.
"3D Printed Hearts" visible on youtube even if made from human-cells cannot "pump" yet because the cells used for 3D printing apparently don't know how to.
Stay sharp intellectually, and critical.
---
Important Note 3
About the field "3D PRINTING"
As a field of innovation, additive Manufacturing has a short history and a lot of news published, continuously. This page is a combination of both.
This page is meant to share with you as many informations as possible but is also limited by the experience we have mainly acquired in fablabs on FFF and SLA technologies.
---
FROM FORMATIVE TO ADDITIVE MANUFACTURING
From Formative Manufacturing to…
Plastic Pellets in Bulk
Mold (ex : rotocasting)
Hundreds of Thousands Parts of Something (Plastic-Injection Mass Production)
…Substractive Manufacturing to…
…to Additive Manufacturing.
---
Trying to spot differences between technologies
| Formative | Subtractive | Additive |
| --- | --- | --- |
| Thousands of Parts of One Model from one Mold | Several Parts + Waste | Multiple/Different Parts |
| Centralized Fabrication | Decentralized Fabrication | Distributed Fabrication |
| Industrial | Semi-industrial | Desktop or Semi Industrial |
| Product is Made Far Away | Product is Regional | Object is In House |
| Producer to Reseller | Producer to Business | Producer to End-Comsummer |
| No customization | Customization | Customization |
---
Comparing technologies
Comparison between 3 (co-existing) ways of Producing/Fabricating an object
---
Additive Manufacturing…Subtractive Manufacturing…Non-Humans…Humans…
Inert Million-Years-Old Additive Geology and Subtractive Contour-Lines Made by Erosion
Successive Layers of Sediment have piled-up over the centuries and were eroded.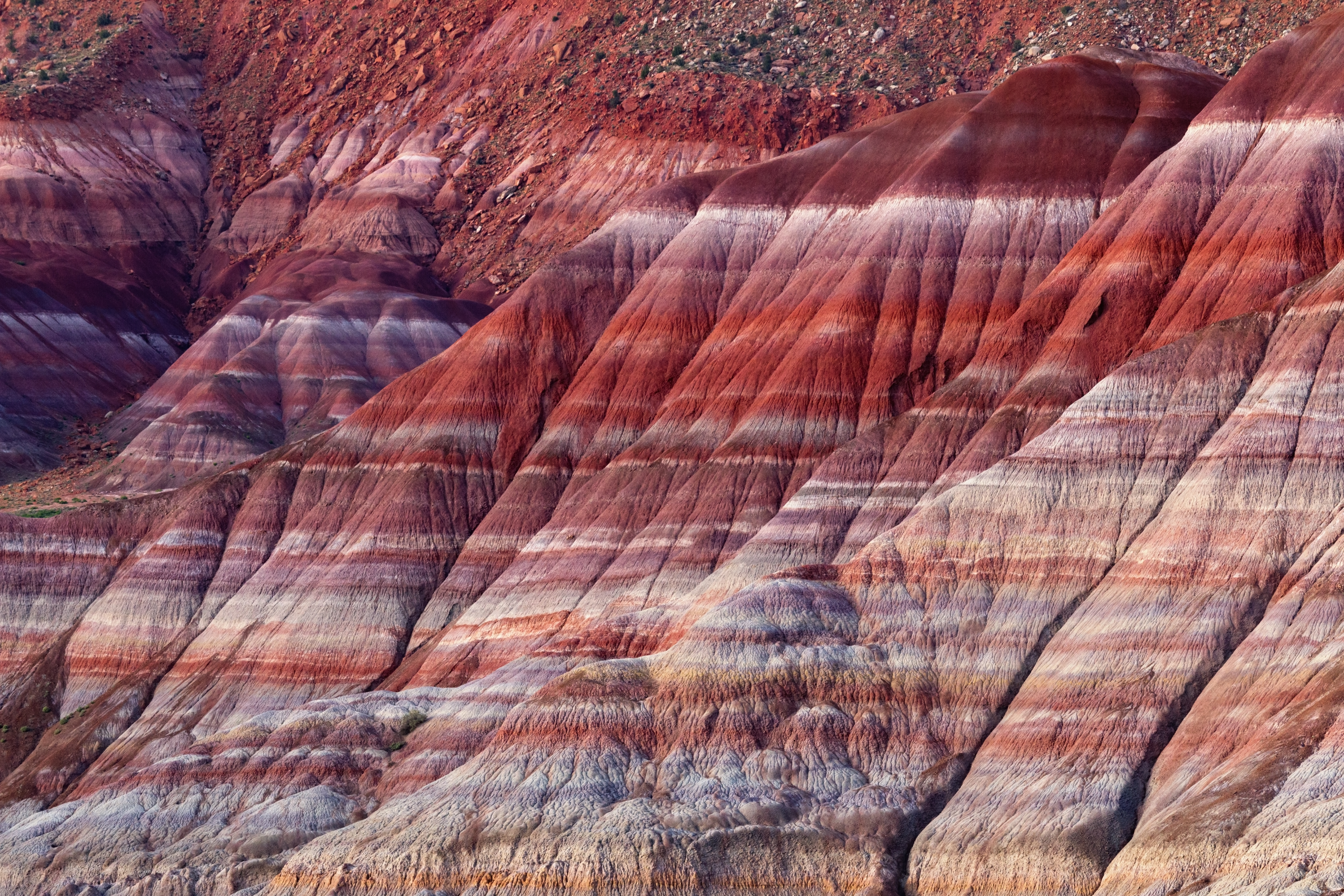 Inert Non-human-made/Extra-terrestrial Additive (and Subtractive ?)
Volcanos (Olympus Mons on Mars) might definitely fit into the Additive category.
When lava flows out of them, material is added on a surface and volume is created.
Hypothesis : Repetitive patterns could even be identified.
Living Non-Human-Made Additive Structure
A hornets-nest is like "papier-maché"". Hornets mix wood-fibers with their saliva (binder) and add them to shape complexe architectonic structures.
The hexagonal shape is regular, applied to a spherical pattern, breathes, and is embedded into a bigger shape.
Contemporary Human-made Layers of Food
There is no doubt that a burger like this one is 99% Additive Manufacturing…
Contemporary Additive Industrial Manufacturing Object
This bridge has been 3D Printed and installed. Fully Additive.
Contemporary Additive Non-Industrial Manufacturing Object
A logo of Fablab UPSaclay 100% 3D Printed
---
Short History of Additive Manufacturing
Key Dates of Additive Manufacturing Technologies in Chronological Order
1984 : Jean-Claude André's and colleagues patent
1984 : Chuck Hull's Patent (a few weeks later)
1988: First SLA-1 machine
1988: First SLS machine by DTM Inc then acquired by 3D System
1990: First EOS Stereos system
1992: FDM patent to Stratasys
1993: Solidscape (company) was founded
1995: Z Corporation obtained an exclusive license from the MIT
1999: Engineered organs bring new advances to medicine
2000: a 3D printed ""working kidney"" is created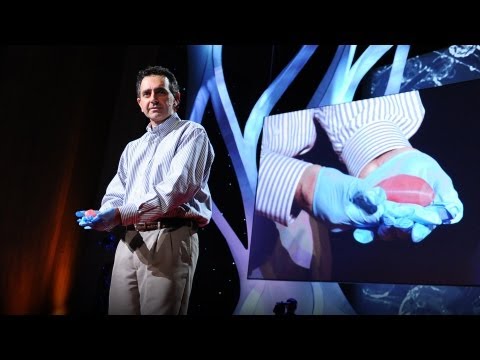 2000: MCP Technologies (an established vacuum casting OEM) introduced the SLM technology
2005: Z Corp. launched Spectrum Z510. It was the first high-definition color 3D Printer on the market
2006: An open source project is initiated (Reprap)
2008: The first 3D printed prosthetic leg
2009: FFF patents in the public domain
2009: Sculpteo is created
2010: Urbee is the first 3D printed prototype car presented
2010: Ultimaker (company) was founded
2011: Cornell University began to build 3D food printer
2012: The first prosthetic jaw is printed and implanted
2013: "3D printing" in Obama's State of the Union speech
2015: Carbon 3D issues their revolutionary ultra-fast CLIP 3D printing machine
2016: Daniel Kelly's lab announces being able to 3D print bone
2018: The first family moves into a 3D printed house
ETC.
---
13 Technologies Currently Available
---
SLA
StereoLithography Apparatus
Laser + Resin
A platform plunges ( Z axis) into a tank filled-in with a bath of photo-sensible liquid resin. A very discret UV laser-beam cures the liquid-resin to solidify it into a shape. Layer per layer. The object is printed "upside-down".
---
FFF
Fused Filament Fabrication
Solid Material + Heat
3 visible axis : x, y, z. A feeder. An extrusion-head (bowden or direct) is heated (around 200 C degrees). The feeder sends the solid plastic-filament (see the shore) inside the extrusion-head. The filament is heated and melted and spreads through a nozzle on the build-platform to make the shape.
---
DLP
Digital Light Processing
Uses a projector and an inactinic light instead of a UV-laser.
SLS (industrial)
Powder + Heat
---
CLIP
Continuous Liquid Interface Production
UV-Light + Resin + Oxygen
Very similar to SLA but is continuous therefore a lot faster. Oxygen-injection plays an important role in this technology.
---
JETTING
MATERIAL JETTING
BINDER JETTING (industrial)
Powder + Binder
---
SDL
Selective Deposition Lamination
Paper + Glue +
---
WAAM
Wire Arc Additive Manufacturing
image
---
CSAM
Cold Spray Additive Manufacturing (industrial)
Gas + Powder + Heat + Supersonic Nozzle
---
HYDROGELS
BIO PRINTING (Desktop Mainly)
from 0.4min to 2.09 (etc.)
SINGLE CELL BIO PRINTING
2min
---
DMLS
Direct Metal Laser Sintering
Laser + Powder
image
---
EBM
Electron Beam Melting
Electron Beam + Powder + Vacuum
image
---
ACCESSING THE TECHNOLOGY
| How to Access the 3D Printing Technologies ? | Which type of machines ? |
| --- | --- |
| Fablabs | Mainly Desktop FDM and SLA |
| Research Facilities | SLA, SLS, (sometimes) |
| Online Services | Any type of machine |
---
THE MACHINERY
The Machinery I know : Cartesian, Modular, and Scalable
PRUSA
Desktop FFF (PRUSA)
Desktop FFF Farm from prusa
Desktop FFF Automated Farm from Prusa
FORMLABS
Desktop SLA (FORMLABS)
Desktop SLA farm
Desktop SLA Automated farm
Semi-Industrial Grade FDM (BIG REP)
---
DEMO ON PRUSA AND/OR FORMLABS ?
---
SPECIAL MACHINERY AND TECHNOLOGIES
Non-Planar 3D Printing
---
Continuous, 45º, 3D Printing
---
Semi-Cartesian 3D-Printers (DELTA)
---
Multi-Material 3D Printing
---
5 Axis 3D Printing
The Morgan
HangPrinter
---
3D PRINTING FOR HEALTH
Current HEALTH Applications for 3D Printing
Breast Reconstruction (0 to 1.22 min)
Maxilo-Facial Reconstruction
image
Real 3D Bone Implants
calcium phosphate suspended into fatty acids
Limb and Legs Prosthetics
image
Ear
Micro-Fluidics
Equipments (COVID 19)
image
---
3D PRINTING EVERYTHING !
Other Current Applications for 3D Printing
Ring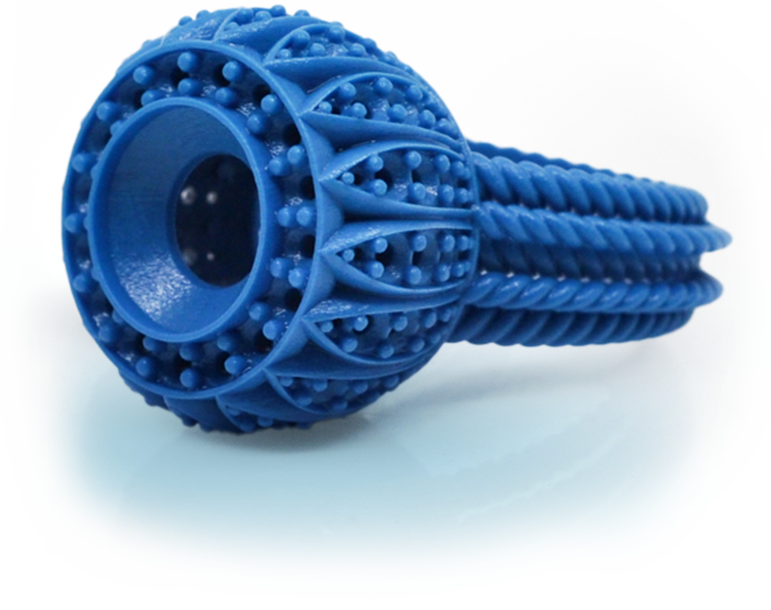 Medal
Engine Prototype
Robot Arm
Sculpture
Heels
Space Pizza
Stool
Chair
Sustainable Housing
Less Sustainable Housing
Electronics
Rockets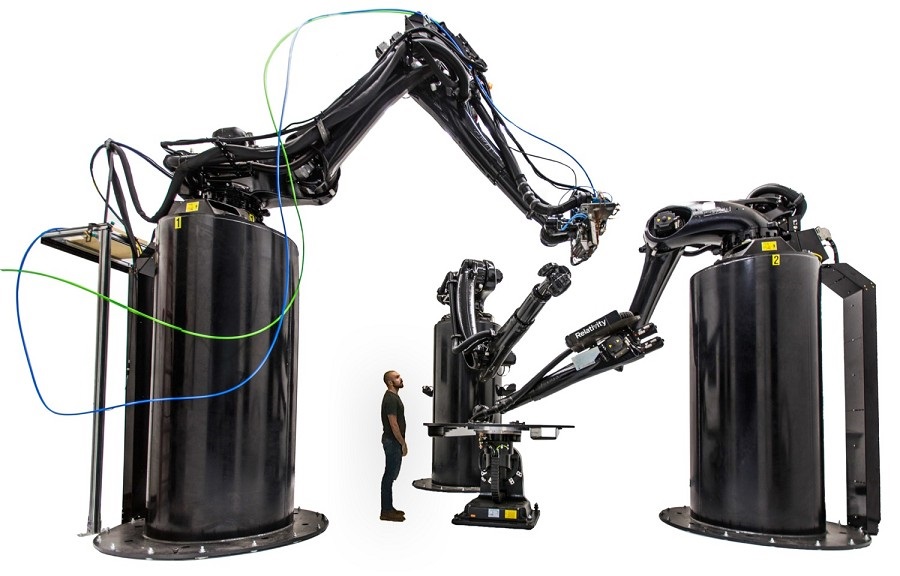 ---
CAD & SLICING & 3D PRINTING
Computer-Controlled-Design (CAD)for 3D Printing
The type of Additive Manufacturing we are look it at CANNOT be performed without computers
It starts with CAD (no matter what)
Designing for 3D-Printing is very specific
Then the Design needs to be sliced to be turned into a machine-language
The G-Code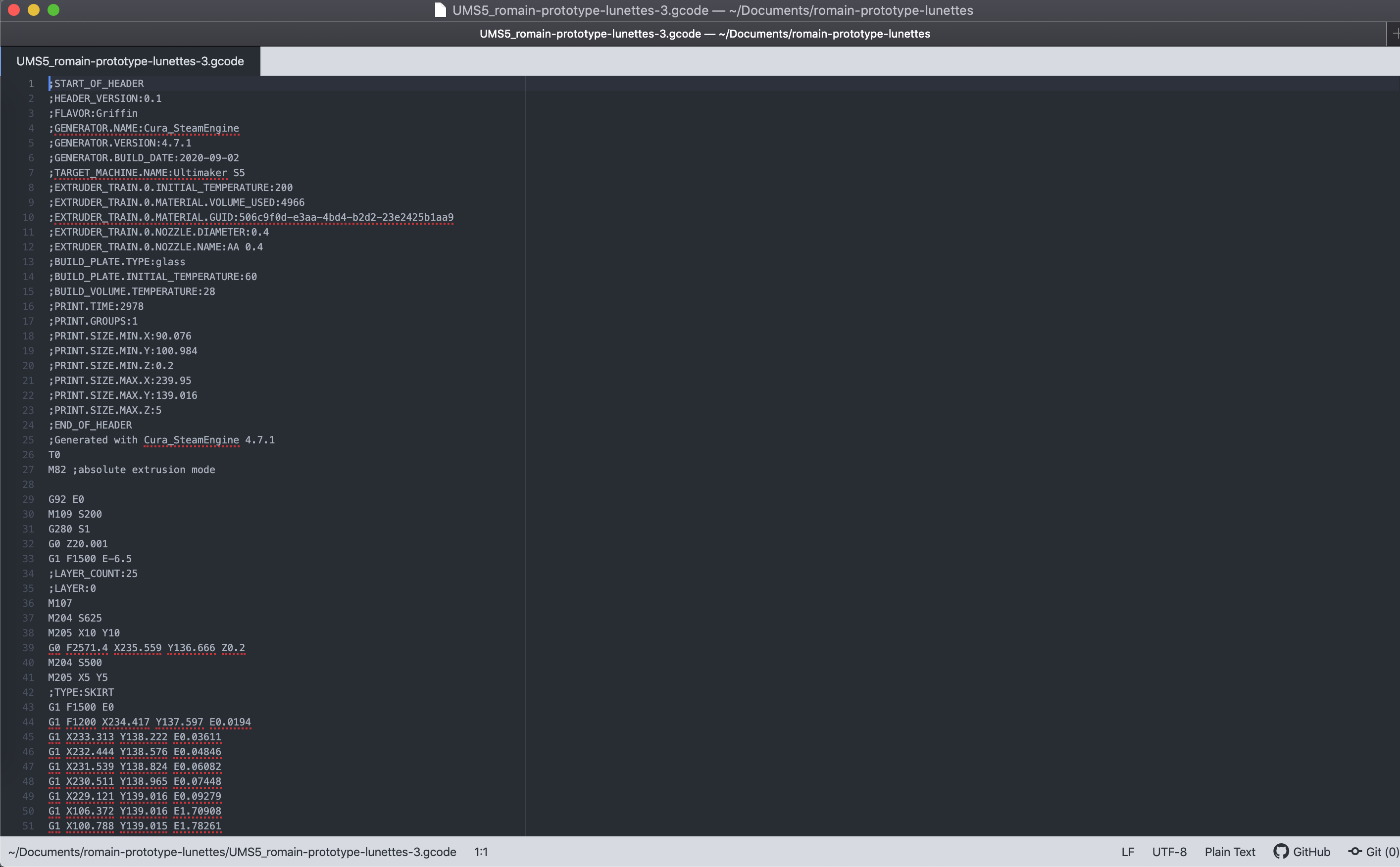 The 3D Printer
---
DESIGN RULES
Design Rules for 3D Printing
3D hubs poster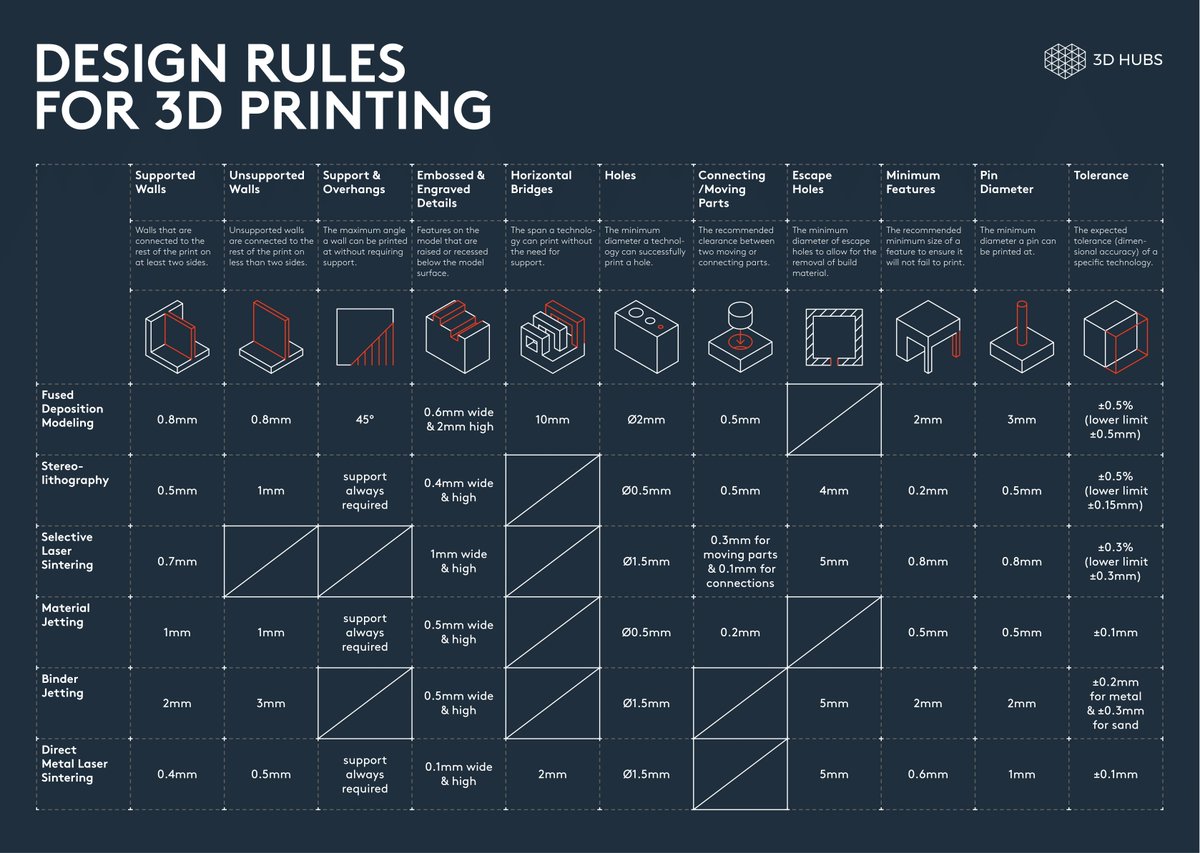 3D hubs book-picture
---
FILES FORMATS
| Main CAD-Format Extensions | | :- | | :- | | .STL | https://en.wikipedia.org/wiki/STL_(file_format) | | .OBJ | https://docs.fileformat.com/3d/obj/ | | .PLY | https://en.wikipedia.org/wiki/PLY_(file_format) | | And More | https://docs.fileformat.com/3d/ |
---
| Technologies | Raw Materials Conditioning | Availability |
| --- | --- | --- |
| SLA | Liquid Resins | Common |
| FDM | Filaments on Spools | Very (very) Common |
| SLS | Powders | Industrial (Mainly) |
| JETTING | Droplets | Industrial |
| WAAM | Wires | Industrial |
| BIO PRINTING | Gels and Cells | Nor Industrial or Easy to access |
| DIRECT EXTRUSION | Pellets | Not Very Common | |
|
---
An Expending Variety of Materials
PLA
| PVA |
| NYLON |
| WAX |
| CARBON |
| PET/PETG |
| KEVLAR |
| TPU |
| PEEK |
| ABS |
| CPE |
| MIXED |
| Mycelium |
| Metals |
| Clay |
| Concrete |
| Glass |
| ETC. |
---
COMMUNITIES
3D Printing Communities and Web Platforms
They mainly emerge from companies as a mean to make the field 3D printing easer to grasp by facilitating peer-to-peer collaborations.
There is an incredible amount of designs available online
People share knowledge for machine-repair, for design optimisation or customisation
They also share code sequences, create software plug-ins
https://www.prusaprinters.org/prints
https://www.youmagine.com/
---
CONCLUSION
Conclusion
Design or Download a 3D file (.STL or .OBJ)
Find the closest 3D Printer around you (check the list below)
Print it
---